Regular Campaigns
Regular Campaigns are one-time email communications sent to one of your lists. You can use Regular Campaigns to send a promotion, an announcement or one-time offer.
NOTE: While you can use Regular Campaigns for both SMS and email communications, the information provided here focuses on email. To learn more about SMS campaigns, please reach out to your Customer Success Manager.
Getting Started
To create a new campaign:
Go to Communications > Campaigns.

Click

Create New

 from the

Campaigns

 page.

Name your campaign by clicking 

New Campaign

 at the top of the page.



Select the

Regular

 campaign type.
NOTE: For more information on what you can do with campaigns, including all Campaign types and prerequisites, see the Campaign Overview page.

After creating your new campaign and choosing the Regular Campaign type, you'll see the menu on the left which will guide you through next steps. You can always use this menu to move to any section if you need to add information in a different order.
Use the following links to jump directly to the sections on this page:
Audience
In this section, you will choose the audience for your email by setting a target list, and, optionally, a suppression list–users who should be excluded from the send. If you need to use multiple suppression lists, please reach out to your Customer Success Manager to enable this capability. (To read more about how to create, manage, grow, and track lists, see the Lists Creation section of the Audience Overview documentation pages.)
To select your target Audience and Suppression Audience
On the

Audience

page, set the list that will receive your email by clicking the drop-down under

Your Target Audience.

Once you choose

Your Target Audience

, you will have the option to exclude recipients via the

Your Suppressed Audience

drop down.

The number of

valid

emails refers to the number of valid emails on a list, minus hard bounces or optouts. See the

User Engagement Levels

 page for more information. If you're using a

Natural List

,

Created

 will show the date it was created.

Configure 
In this section of the campaign setup, you'll enter the foundational information for your email, including the template; basic information such as the email's From Name, Email Subject and Reply-To Email; and choose the Data Feed and/or Ad Plan, if you're using one.
Select a Template and Enter Campaign Details
On the Configure page, check the Build from Template box and choose your template if you have not already done so.
Enter the basic information for the campaign including:
The

From Name

 and

From Email

that will display for recipients.

Email Subject

 for the email messages.

Reply-To Email

 to which recipients can respond.
NOTE: Clicking the envelope and plus symbol icon allows you to add a verified email that you have already added to My Sailthru for verification.
Add a Data Feed or Ad Plan (Optional)
You also have the choice here to include a Data Feed in your email. Data feeds can supply your email messages with content to display, such as the latest articles or products on your site. Sailthru utilizes the following feed types, which should contain your product or content URLs:
Content Feeds

 are supplied by Sailthru's Personalization Engine product, which gathers users' interests based on website activity.

You provide

URL Data Feeds

, which may be generated by your content management system. It is recommended that you add these to your

f

eeds

 page in My Sailthru so that Sailthru can cache them and make them easy to access within your template

 or campaign. JSON format is recommended.

Merged Feeds

 contain multiple Content and/or URL data feeds, which Sailthru merges for you into a single feed.
See the Data Feeds Overview documentation page for more information, and note that your template must be coded to support the display of data from a feed (see Code a Template Using a Data Feed).
See the Ad Targeter Setup documentation page for more information on the Ad Plan feature.
Design 
The Design page is where you will modify or update content that appears from the template you have chosen for your Regular Campaign. You can create a campaign from scratch and paste HTML you've built outside of Sailthru into the design page. However, it is a best practice to start with a template. When using a template, you can still manually edit your code for each campaign send, as needed.
Design Your Email Content
On the Design page, you will see Sailthru's side-by-side code editor. You can modify the HTML from your chosen template as needed and use the preview window to view and test your content. Click Test Send to quickly send a test email. You will then be prompted to enter the test email address.
NOTE: When using the Test Send button, the optout link will not render in the test email.
Code from your template will be shown in the HTML viewer and as you make changes to the code on the left-hand side, you'll see updates on the right, allowing you to preview your email before making it live.
Under the Text tab, you can create a plain text version of your email. Click Convert from HTML and the text of your email will render in plain text, along with a preview. You can also choose to make manual edits to this text-only copy.
Also, above the HTML viewer are your Advanced options:
The

Zephyr Setup

 section will run once for every recipient before their email is sent, allowing you to prepare and manage user data, feed content, etc., prior to generation of the message body. This is especially useful for preparing dynamic email, where content differs per user. See the Using Zephyr section below for more information.
Link Setup

allows you to indicate whether you'll be tracking links and/or using Google Analytics to measure what happens on your site after a user opens and clicks within your email.
Using Zephyr
For Regular Campaigns, you can use HTML to create static content, and Zephyr for dynamic content that is generated at the time of the campaign send, and may differ for each recipient. Zephyr is Sailthru's coding language used in email subject lines and campaign Templates to increase customization. For example, Zephyr is used to incorporate data feeds to populate the Template with your latest content and to call variables associated with user's profiles, such as their geolocation to ensure relevancy for each recipient of the email.
See the For Developers documentations pages for more information on using Zephyr for Sailthru email campaigns. You can also click Zephyr Guide from the Design page in My Sailthru to access the Zephyr Syntax Overview documentation.
Viewer Options and Image Library
You can adjust your viewing options by clicking the cog icon at the bottom of the HTML viewer. This is also where the image library is located. Images you upload are available to you for all emails you design. When deleted from an email, they remain in the library for use in other emails.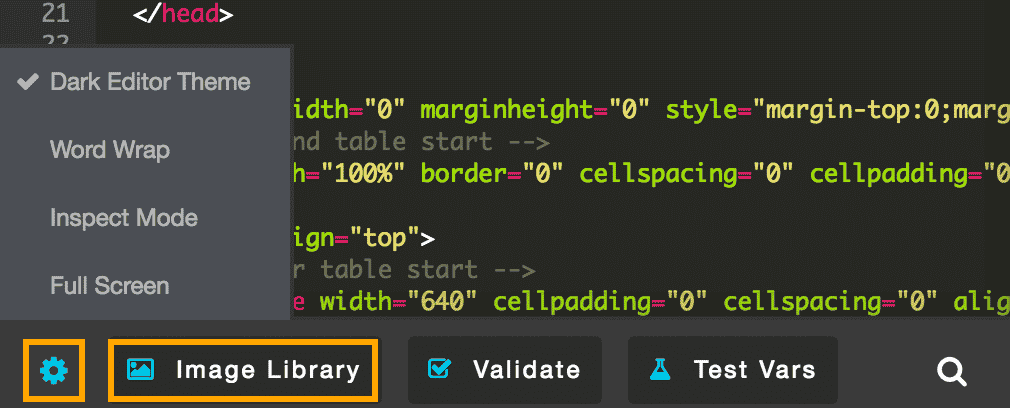 You can easily bulk upload images by dragging and dropping from your desktop or a folder into the Image Library.
Schedule
When and how your email will send is critical in getting a response from your audience. There are multiple options that let you control the send date and time to reach your audience when your content is most relevant and valuable, including the Personalized Send Time.
Scheduling Your Campaign
On the Schedule page, set up all options around how and when your email will be sent. If you choose to send On Confirmation your email will send once you click Schedule on the next page, which is the Confirmation page. confirm the creation of your email. You can also set a Specific Time, which allows you to schedule an exact time and date in the future.
Choose Personalized Send Time to optimize the open rate by sending emails to individuals when they are most likely to open based on their email-open history. For example, if you choose to send your email starting at 9:00 a.m. with a 16-hour send window, the email will be sent to each user at the time between 9:00 a.m. and 11:00 p.m. when they are most likely to open it within that window. This is based on user open history in their Sailthru profile.
Confirmation and Seed Emails
Enter the Confirmation Email for the individual(s) who should receive an email when the campaign completes sending, including a confirmation of completion and total emails sent. To enter multiple confirmation email addresses, separate using a comma.
Enter the Seed Emails to which the email should be sent. Note that this will send to the email address regardless of opt-in status.
Confirmation
The Confirmation section provides you with an opportunity to review a summary of the settings you've chosen for your campaign prior to scheduling it.
If you have scheduled your campaign to send On Confirmation, a pop up will appear to confirm and give you the option to schedule for a later date.
You can always return to edit any section of your campaign either prior to the send time or while it's in the process of sending.
If you need to adjust a setting once a campaign has begun sending, you can pause your campaign to do so. To pause a campaign that is currently sending, click Sending Folder, hover over the Campaign and hit the pause button.
TIP: Make it best practice to review all of your campaign details presented on this page prior to clicking Schedule. Try reading this page from the bottom up, or printing to review on paper. Changing the order or method in which you've previously reviewed information can help you to find errors or items that need updating.