Hosted Pages List Page
The Hosted Pages list page includes a searchable list of all your available pages, sortable by date updated, with options for filtering by Status, what kind of page it is (HTML or Visual), and the page function.
New Hosted Pages
To create a new page, select the New Page button.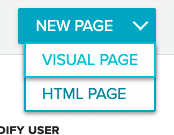 Select the type of page you want to create (HTML or Visual), and the appropriate editor will open.
Page List
The Page List shows the pages you have access to. Within the Page list, icons show the type of page.
Page Entry
Each Page listed shows the Page Name, URL, Date Last Updated, Category, when the page was last modified, and who modified it.
Delete Pages
To delete a page, select the three dots at the end of the list entry.


Search and Filter
Search for and filter your pages from the left-hand sidebar.
Search
Search for a specific page by Name from the search box in the sidebar. Results are displayed as you type.
Filter pages
Pages can be filtered by a variety of options. Each filter section shows a count of how many pages belong to that designation.
| | |
| --- | --- |
| Filter Name | Description |
| Type | The type of page: HTML or Visual. |
| Category | The page category: sign up, user management, or other. |