Lifecycle Optimizer Adds Yes/No Branching
On June 15, 2017, we'll release an update to Lifecycle Optimizer that allows you to create flow branches for both the "yes" and "no" outcome of checks. This feature only allows 2 branches per check, but multiple-branch functionality is coming before August.
This two-branching update will be available to new and existing flows. Adding steps to "Active" flows will require the altered layout to be saved as a new flow.
Delete steps faster
As part of this release, you'll also notice a change to how steps are deleted. To delete steps, hover over the step shape and click the Delete icon on the right corner. This replaces the "Remove Step" button inside the properties panel.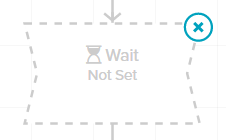 Update to "List Joined" entry behavior
We are also updating the the behavior for flows that begin from a user joining a list. Beginning June 15, 2017, this entry type will include users who are added to lists through other Lifecycle Optimizer flows "Add to List" actions.
More to come …
This is the first in series of branching and testing features coming to Lifecycle Optimizer throughout the next few months. Stay tuned for updates on our next releases, which include re-joining branches, three or more branches based on custom field (var) values and random-sample testing.
Learn more about Lifecycle Optimizer
You can visit our documentation for more information, or register to attend an upcoming Sailthru Academy training on Lifecycle Optimizer and this new branching functionality:
Stay up-to-date on all of Sailthru's features at sailthru.com/academy.